Matthew's Catering
For All Venues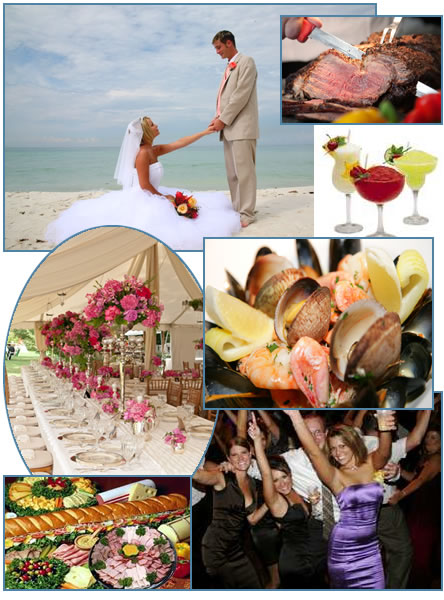 Over the years, Matthew's Catering has earned the reputaton as one of Fire Island's premier caterers. That's because of our fabulous food, excellent service, and dedication to catering all types of events; such as Weddings, Cocktail Parties, Lobster Bakes, Barbeques, and more. We serve both on or off premise.
We offer custom tailored menu development from an extensive list of perfected dishes. Allow us, with our professional staff, help you host a most memorable and creative event.
Additional Services:
Clam & Oyster Raw Bar
Entertainment
Carving Station
Wedding Cakes & Desserts
Wine & Beer Bar
Tent & Party Rentals
Highball Bar
Linen Rentals
Frozen Drink Bar
Professional Service Staff
Cordial & Pastry Buffet
Beach Wedding Ceremonies
Floral Arrangement / Centerpieces
Deluxe Wedding Packages
Photographers & Videographers
Cocktail Parties
Steel Drum Bands
Below are sample of menu choices for Matthew's Catering Services. Note that these are samples only. We have an extensive list of choices and customization for you to choose from. We do recommend calling Jen Morano and consulting with her about your particular event. We look forward to hearing from you, and hope we can assist you on your special event. Thank you!
Market Party Platters
Jumbo Shrimp Cocktail served with cocktail sauce and lemons
Peel & Eat Shrimp cooked in beer and spices, served with cocktail sauce and lemons
Cold Combination: Shucked & chilled clams & oysters, peel & eat shrimp, and calamari vinaigrette
Vegetable Crudités: Assorted vegetables with two dipping sauces
Cold Poached Salmon: Served with cucumber dill sauce and lemons
Fresh Mozzarella, Tomato & Basil: Served with balsamic glaze & oilve oil
Lobster Cocktail: Cold cooked 1 1/4 lb lobsters served with cocktail sauce & lemons. Oysters on the Half Shell: Shucked, chilled and served with cocktail sauce and lemons
Fruit & Cheese: Assortment of imported cheeses, grapes and berries, served with crackers and bread sticks
Grilled Vegetables: Assorted vegetables marinated and grilled to perfection
Clams on the Half Shell: Shucked, chilled and served with cocktail sauce and lemons
Matty's Market Clambake: Steamed lobster, BBQ baby back ribs, and baked clams, served with corn on the cob, corn bread and cole slaw.
Hot Hors D'oeuvres & Entrées
Thai Peanut Chicken Satay
Fried Calamari with Banana Peppers
Scallops wrapped in Bacon
Stuffed Mushrooms with Crab Meat
Penne Ala Vodka
Jumbo Stuffed Shrimp with Cram Meat
Chicken sautéed either Marigold, Marsala, Piccata or Parmesan
Mussels Marinara or Bianco